Change Healthcare Interested in a Friendly Chat with AGR Health
July 31, 2021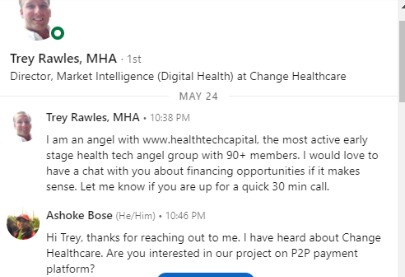 Ashoke Bose
I am deeply honored to receive an invitation for a friendly chat with the Director of Market Intelligence (Digital Health) at Change Healthcare ( NASDAQ: CHNG ), a giant in the US healthcare industry.
AGR Health is the current licensee of patent pending Pairing Member Technology, (PMT) developed by M. L. Bose Memorial Health Foundation, Inc. The PMT technology would allow the most innovative healthcare payment platform P2Pay, which is being developed in partnership with Kleeen Software and Vendia, Inc. of Silicone Valley, CA.
Change Healthcare is a leader in the digital healthcare space. They enhance the consumer experience by offering the industry insight and innovative technology to help their customers meet business objectives.